Duplex Steel Fasteners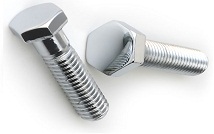 TorqBolt Started its Manufacturing & Stocking Range from High Strength Duplex Grades. This primarily included Duplex Steel 2205 Grade subdivided into UNS Designation S31803 & S32205 with some change in Properties. At TorqBolt, we extensively Manufactures both these Grades. We Offer Hex Head Bolts,Stud Bolts,Socket Head Products,Hex Nuts, Flat Washers. We can provide Coarse/Fine/Extra Fine with Full Threads/Half Threads configuration UNC/UNF/BSW Threading type. We have ready stock material in Duplex Steel S32205 Hex Bolts/Hex Nut & Flat Washer. We Offer Hex Bolts, Nuts as per DIN/ISO/IS/EN/ASTM & ASME Standards.
Size : M4 upto M100 & Customized.
Recently Manufactured Products : Duplex S32205 Heavy Hex Bolt,Duplex S32205 Set Screw,Duplex S31803 Grub Set Screw, Duplex S31803 Spacer Ring,Duplex S32205 Flat Washer, Duplex S32205 Countersunk Screw,Duplex 1.4462 Heavy Hex Bolt, Duplex 1.4462 Heavy Hex Nut, Duplex 1.4462 Socket Head Cap Screw, Duplex 1.4462 Full Threaded Stud Bolt....
For Quick Quote on Duplex Steel Fasteners, Please contact our Sales team
ASTM/ASME Specification for Duplex & Super Duplex Grade Fasteners